Staying Connected Is Easy
Have you ever been in a situation where you've needed to ensure people, whether staff or family members, always have enough airtime on their phone to stay in contact?
Via WolaTalk ©, WOLA pushes prepaid airtime to thousands of users across South Africa.  We then track, analyse and report on its usage, effectively combining the flexibility of Prepaid with the convenience of a Contract for each of our clients.
The cost of this great service is free
WolaTalk© Features
WolaTalk© Benefits

We send airtime to your staff members
We do it for you
Reporting
Fully customised
Fully automated

Hassle free, stress free
Zero monthly costs or setup costs
Quick to implement
Connectivity: The ability to send remotely ensures no-one is out of contact
Significant savings through:
Reduced Manpower
Increased Traceability
Phonebill Analysis
Increased Financial Controls
Convenience
No Contracts
Flexibility:
Add/ remove cellphone no.s
Increase/ decrease monthly airtime received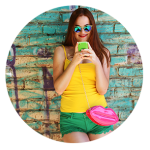 What Makes WolaTalk© Different?
SOLUTION
PROS
CONS
Prepaid Airtime
Highly Flexible
Administrative and tracking nightmare when loading airtime via vouchers or other currently available channels
Contract Airtime
Convenience

Highly inflexible long term contracts

Lots of paperwork

Credit Limit pre-set

WolaTalk©

Highly Flexible

Convenience

No administration

No pre-set Credit Limits

Tailored reporting

Staff can now no longer use the airtime as they wish – a win for you!
Save Time and Money with WolaTalk©
Increased Control Of Finances
More Accurate Phone Bill Analysis